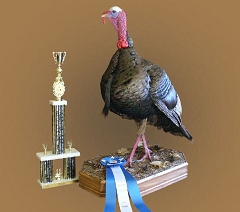 |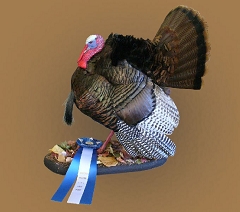 RN Taxidermy is located in Davison Mi.
Owned and operated by award winning taxidermist, wildlife artist, and instructor Bob Nielsen. Quality is Number One.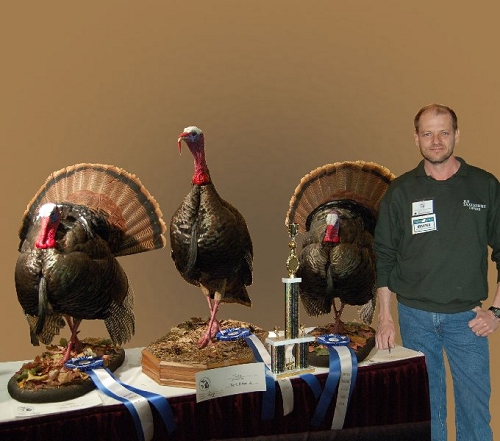 1st Place Standing Turkey 2010, Masters Division. State Champion. 2010 State Show.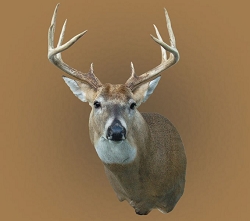 |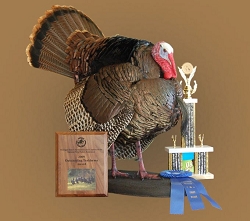 RN Taxidermy is a full service Michigan state licensed taxidermist. I have been a taxidermist since 1996. I can mount anything from a weasel to an elk, from a blue gill to a salmon. I have fished and hunted in Michigan since I was a young boy and am very familiar with the wonderful array of fish and animals Michigan has to offer. I became a taxidermist because I wanted to be able to do the taxidermy work on my own mounts. I joined the Michigan Taxidermist Association to become a better taxidermist. I compete at the Michigan Taxidermist Association state shows in the professional division, so that I am always on the cutting edge with the newest products and techniques available. I will provide life like, anatomically correct, and good looking results with your trophy.

By competing at the MTA shows, at the professional level, I am able to insure that my customers receive the highest quality taxidermy work that will last a lifetime. I strive to bring the life back into the trophy you are so proud of. Plus, I put my name and reputation in every mount.

If you are looking for a new taxidermist contact RN Taxidermy in Davison Michigan to schedule an appointment. You won't be disappointed.

Serving: Atlas, Burton, Capac, Clio, Columbiaville, Davison, Dryden, Fenton, Flint, Flushing, Genesee, Goodrich, Grand Blanc, Hadley, Holly, Imlay City, Lapeer, Linden, Metamora, Mt. Morris, Swartz Creek, and all of Michigan.

Awards Won by RN taxidermy:



1st place standing turkey 2010, Masters division.
State champion. 2010 State show.
---


1st place strutting turkey 2009
best of category trophy, national wild turkey federation award
Michigan taxidermist association state competition Professional division
---


1st place flying turkey 2009
Michigan taxidermist association state competition Professional division
---
2nd place pheasant 2008
Michigan Taxidermist Association State Competition Professional Division
---
2nd place coyote 2008
Michigan Taxidermist Association State Competition Professional Division
---
2nd place deer 2008
Michigan Taxidermist Association State Competition Professional Division
---
2nd place large mouth bass 2008
Michigan Taxidermist Association State Competition Professional Division
---
3rd place Pheasant 2007
Michigan Taxidermist Association State Competition Professional Division
---
3rd place Turkey 2007
Michigan Taxidermist Association State Competition Professional Division
---
3rd place Deer 2007
Michigan Taxidermist Association State Competition Professional Division
---
2nd place Walleye 2006
Michigan Taxidermist Association State Competition Professional Division
---
RN Taxidermy is a Member in good standing of the
Michigan Taxidermist Association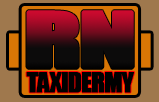 Bob Nielsen
Davison, MI 48423
810-444-0552
Email
Rntaxidermy@aol.com
COPYRIGHT © RN TAXIDERMY - WWW.MICHIGAN-TAXIDERMIST.COM - ALL RIGHTS RESERVED